With the child, see the world with toys!
There are many different kinds of puzzle toys in our company.For example:3D DIY puzzle toys,magnetic puzzle toys and so on. Toys are not just entertainment, but also children's ability to develop and learn ability and open up the children's field of vision.
At home we can see the half of the Burj Al Arab in Dubai where the sea is half full of desert landscapes.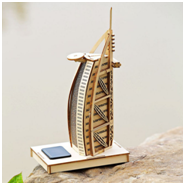 Product name: Burj Al Arab
Product size: 12*18*32cm
Material : wood
Logo : customized
MOQ : 200pcs
Packaging : box packing
Payment : T/T,western union,paypal
Delivery : shanghai/shenzhen/ningbo port,10-30days after payment
FAQ :
Q : Can you design LOGO ?
A : Yes,we have designers.
Q : Do you have any export experience?
A : Yes,we are often exported to all over the world.US,UK and so on
Q : Can you arrange shipping ?
A : Yes,we have a professional freight forwarder
Do you think we only have this kind of product?No! If tired, you can play simple puzzles with your kids, exercise your brain, and improve your relationship with children.